Introduction

 The project to commemorate the 50th Anniversary of the Foundation of the United Nations Organization started in October, 1995. A globe-shaped porcelain vase named "The Blue Star of Life Ewas donated to the European Headquarters of the United Nations, viz. Palais des Nations in Geneva, which is still placed in the lobby adjacent to the room once used for the meeting of the Conference on Disarmament.

 The porcelain globe "The Blue Star of Life" (hereinafter referred to as TBSL) contains a collection of pebbles from around the world. Since stone in Japanese is "ishi E phonetically the same as "will Ein Japanese, these pebbles symbolize "will Eof the world to seek peace and conserve environment.

 Commemorating the 65th Anniversary of the Foundation of the United Nations in October 2010, the organizing committee of TBSL proposes to hold the follow-up ceremony so that a younger generation can show their "will Eto the world.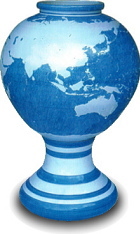 The upcoming ceremony is an international exchange event where eight student representatives from East Asia and South East Asia will make statements.